Real information can be seen at The Club SpongeBob Wiki. Please check it out here: Mrs. Puff
AS IF I REALLY LOOKED LIKE THIS! - Mrs. Puff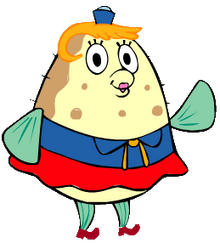 Mrs. Poppy P. "Pufferfish" Puff is a main character of The SpongeBob SquarePants Series, and appears in SpongeBob SquarePants 2: The New Series as still, SpongeBob's Boating Teacher.
Mrs. Puff was the main antagonist in SpongeBob Unikitty Power Hour. She was seen in the classroom talking about the upcoming travel-related science fair. When Unikitty was stuck in SpongeBob's universe, Unikitty eventually developed a transporting device with SpongeBob's poofer and game-buddy. Mrs. Puff, however, busted in SpongeBob's room, took the device from Unikitty and used it to enter Fairy World. After breaking into the weapons room, Mrs. Puff knocks down the Big Wand and cuts off the fairies magic and turned Jorgen Von Strangle into a dog. When Unikitty succeeded into fixing the Big Wand, the fairies recovered their magic, Mrs. Puff was blasted by Unikitty a few times and then gets mauled by Jorgen's dog fangs.
Community content is available under
CC-BY-SA
unless otherwise noted.